My Emergency Medicine Project in Mexico
Published on Tuesday 11 October 2016
My Emergency Medicine Project in Mexico
Sarah Sniff
With a sweaty hand, I nervously clutched my backpack and stepped foot out of the plane. I took a deep breath as I admired the warm, yet quiet evening in Mexico. There were no other planes at the airport and the sun had just set. In the distance, I could see the soft-glow of the airport lights surround me as I patiently waited for the shuttle to bring me to the nearby terminal. Who would be picking me up? I know someone is coming, but I don't speak that good of Spanish. I hope they can speak a little bit of English. I was nervous and so many questions flooded my mind, but it was now. Now, was the time for me to step out my comfort zone. I had just flown out of the United States for the first time in my life and my volunteer journey with Global Medical Projects was about to begin.
For the past two years, I have worked as a paramedic in the United States. Although I love my job as a paramedic, I had always had a desire to provide care in an underserved area outside of the United States. By volunteering abroad, I was hoping I would gain invaluable knowledge by experiencing another culture, learning about other health care systems, and by being exposed to different medical differentials and techniques. Little did I know that as I nervously stepped out of the plane that evening, I would be fulfilling all of those desires by the end of my trip.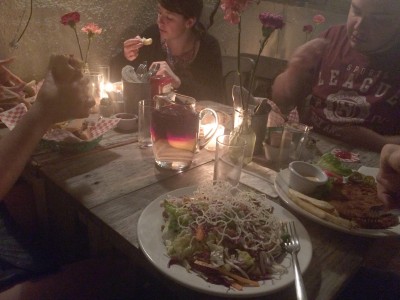 After being picked up that evening by Alberto, one of the volunteer coordinators for Global Medical Projects (and yes, he spoke English very well), I was taken to my "families" house. Prior to arrival, I knew I was going to be assigned to live with a family in Guadalajara and that the family would be providing me with 3 meals a day as well as a clean, safe living quarters. The coordination with getting to Mexico was effortless. Kevin, the program director based out of the United Kingdom, was very quick at responding to calls/emails and kept me informed with any changes in living arrangements, assignments, and with answering any questions/concerns that I had.
When I first arrived at the house, I immediately felt at ease. Since I had a late arrival that evening, the family had just finished eating and had been expecting my arrival. They were overjoyed to meet me and welcomed me right away to eat some of the meal they had just finished. The father of the family spoke a little bit of English, but he encouraged me to use some of my Spanish since the mother did not speak any English and she was quite excited to talk to me. After gaining some confidence from the father's encouragement, I felt comfortable attempting to use my basic Spanish (with, of course, a little help from Google Translator). Not only was the family waiting to greet me, there were two guys sitting at the kitchen table. The two guys were student paramedics/ volunteers from the United Kingdom who had already been volunteering for a week longer than myself. The two volunteers were wonderful and they shuffled me up the stairs to show me my bedroom.
Although my room had two beds in it, I had my own room and shared a bathroom with the other two volunteers (who also had their own rooms). Mary, the house mom, kept the space very clean and was constantly concerned if we were getting enough to eat or if we needed anything. This fantastic hospitality remained the whole trip and the house really felt like my home away from home. There were many nights of delicious family dinners followed with great conversation, games, and laughter in the upstairs living room.
My first day in the city was relaxed. I was able to sleep in before Alberto returned the next day to take me around the city. We wandered the city and soaked in the culture. Alberto made sure to take me to some of the best food and drink spots. Although the city was hustling and bustling, it was so much fun because we were able to take the city bus around to see so much of the city including: the old churches, family owned coffee and food shops, shopping centers, the heart of downtown Guadalajara, and the other main hospital. Alberto took me to Cruz Verde, the hospital I would be volunteering at, and introduced me to the staff. The staff hardly spoke English, but that didn't stop them from trying to talk to me- they were incredibly friendly and inviting! They wanted to know who I was, what I wanted to help with, and what I already knew.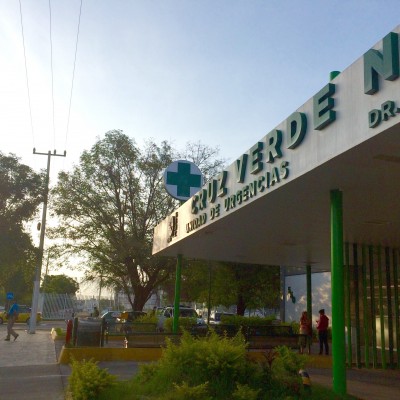 I spent a bulk of my three weeks in the hospital.The hospital experience was perfect. As volunteers, we took the bus and train to the hospital every morning around 7 am. We were "on-duty" from 8 am to 2pm. I was able to assist and perform many procedures (under the guidance of one of the physicians) that are not normally in the scope of practice for a paramedic in the states. Some of the most memorable things that I was able to do included removing and doing stitches, directly assisting in the operating room, helping put casts on patients, assisting with cleaning and wrapping wounds, starting IV's/setting up drips of medications, assisting during cardiac arrest, and etc. The list could go on. Some interesting cases that I saw included: multiple cardiac arrests, a scorpion sting on a little girl, a traumatic femur fracture, a man stung by hundreds of bees, and a man who went into anaphylaxis due to eating a duck egg.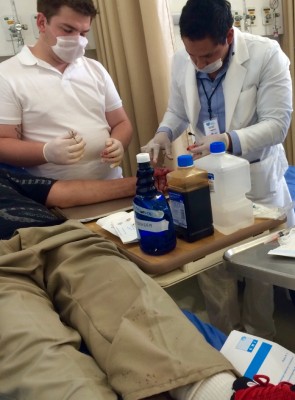 In the emergency room, as a volunteer if you simply asked, you could learn and assist with almost anything under the guidance of the doctors. They truly wanted us to learn and help as much as possible. Not only was I able to pick their brains about medical procedures, but I was able to understand how their health care system worked. By the end of our trip, the doctors and nurses became close friends to us. We often went out in the evenings together and they truly made us feel like we were part of the hospital family.
Following my experience in the hospital, I decided that I wanted to branch out and volunteer for the night shift on the ambulance. The ambulance night shifts were 12 hours long. I was paired up with another volunteer for the evening shifts so I was not riding the bus and train to the hospital by myself. We were on separate ambulances, but we stayed in the paramedic quarters in the hospital when we weren't on calls.
The only way to describe the paramedics is with one word: passionate! They were incredibly passionate about their job and were extremely proud to be able to provide people care in a pre-hospital setting.. Although their trucks are not equipped with cardiac monitors and cardiac drugs like the US and UK, they otherwise had similar pre-hospital drugs and interventions. Since the city and hospital does not have a lot of money to put into the ambulance service, the paramedics were very careful not to be wasteful and they often "created" there own splints as necessary. Some calls that we worked included: many motor vehicle and bike accidents, dog bites, very sick elders, and traumatic injuries on work sites.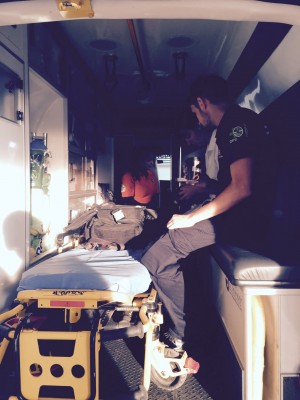 As a volunteer, I rode third person in the back of the ambulance's captain chair. (Let's just put it this way: you definitely had to buckle in and hold on when they were driving emergency traffic or you risked flying out of your chair!). The director of EMS made sure that we stayed with the same paramedics during our time volunteering. My two paramedics were no different than the hospital staff in the respect that they wanted me to be at home. Between calls, they would often sneak me away to see something "cool" or to eat a traditional meal that I was "required to eat" before leaving Mexico. They made sure I got the true Mexican experience. In the field, similar to the hospital, the paramedics let me function as a paramedic. I noticed in the homes that the residents of the city were extremely respectful and thankful for the paramedics. It was a wonderful experience to see and the respectfulness truly reflected the "Mexican way of life" (as they would often tell me about).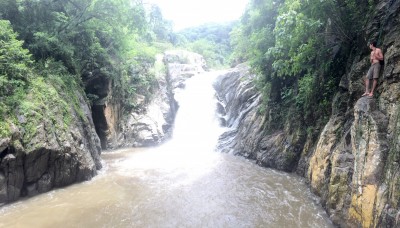 When we weren't working in the hospital and on the ambulances, we were able to venture around the city of Guadalajara and surrounding cities. The evenings were often full of fun adventures to shop, eat, drink, and enjoy the Latin culture. The weekends were especially exciting because we elected not to work on the weekends (although you could if you wanted or needed to). As a group, we picked places we wanted to go see and would travel to them via Uber or the bus. One weekend, we took a bus to Puerto Vallarta. Puerto Vallarta was a neighboring beach city about 4 hours away. We were able to book an "Air B n B" hotel room for extremely cheap to stay right on the beach. Another weekend, we got rained into a "fiesta" in a nearby city and enjoyed some local drinks and festivities- not so bad to be rained in with good food and company!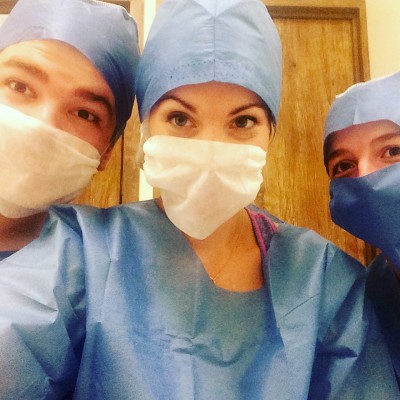 After my three weeks were up, I found it difficult to leave. The culture was incredibly inviting, I felt part of the hospital and EMS staff, and I had made wonderful friends. I'm already looking forward to the next opportunity I get to go back. Thank you Global Medical Projects for providing a safe, fun, and invaluable learning experience that was, and is, an experience of a lifetime!"
-Sarah