Published on Tuesday 22 December 2015
Charlotte Little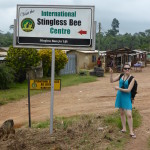 I completed a medical placement with Global Medical Projects in Ghana from June-Aug 2015. As a final year medical student from the UK, the placement was my medical elective. I spent 7 weeks on the medical placement and then 2 extra weeks in Ghana for my own travelling. I thoroughly enjoyed my time and would highly recommend it – the experience was eye-opening and challenging, but also fun, exciting, inspiring and memorable.
Preparing
I chose to travel with an organisation as I found it can sometimes be difficult to make direct contacts in developing countries and to get as many opportunities organising things yourself. I was also travelling alone, and going with an organisation meant I felt I'd have more support and security, and be able to meet other volunteers when I was out there. Global Medical Projects was a great choice of organisation to go with and I'm very pleased that I chose them! They gave me lots of information and support before I went, which was great. I spoke to Kevin on the phone before booking and he was very helpful in answering all my questions and giving me more details. As soon as I booked with Global Medical Projects I got my own webpage with all the info I needed before I left – this was really useful for things such as advice about currency. I didn't have a great deal of time to organise my trip overall, so it was brilliant that it was so straightforward and quick as soon as I got in touch with the organisation.
The Medical Placement
I spent my time working in the Cape Coast Regional Teaching Hospital, Ghana. Although this is the largest hospital in the region and receives referrals from other medical facilities, it was actually smaller than I expected (in comparison with UK hospitals!) However, there were many departments and it was busy – there was plenty to do!
On my first day I met the Medical Director, who asked me about my interests and allowed me to decide what my timetable would be whilst I was there. There were opportunities to work in various areas such as A+E, Male/Female medicine, Male/Female surgery, Obs and Gynae, Dialysis, Paediatrics and NICU, Outpatients, Radiology, and Pathology Labs. The flexibility was great – I was able to choose which areas I wanted to work in, so could tailor the experience around my own interests and skills. As an elective student (so with lots of clinical experience) I was able to get very involved and have hands-on access to all the things that local Ghanaian medical students do, including theatre. Volunteers without medical training were slightly more restricted but still had a huge amount of hands-on experience, for example many of them learnt how to perform malaria tests, take bloods and got involved in resuscitation in A+E. Really it depends how much you are willing to put in – if you are enthusiastic and willing to join in with the medical team then you will find that they give you more opportunities!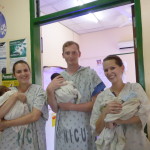 I personally spent most of my time in Paediatrics and NICU, with some time in Obs and Gynae, outpatients and A+E. The staff were welcoming, especially the junior doctors, and I was made to feel a part of the team. I did many of the things that I would in the UK, such as attending ward rounds, assisting in outpatient clinics, clerking patients and performing examinations and investigations. However, I was also allowed to participate in some things that I haven't had the opportunity to in England, such as independently putting in neonatal lines and assisting with lumbar punctures in NICU. Sadly with the higher rate of childhood mortality there were many paediatric and neonatal resuscitations every week which I was often involved in – this was a very useful experience however and an important part of medical training. I also found on-call and night shifts really interesting, as although they are long and tiring they can present you with a variety of different cases and challenges and there are generally fewer staff meaning that I could be even more involved.
Overall, the hospital experience was very different to the UK and a good opportunity to get a different perspective on medicine and healthcare. There is a significant lack of resources compared to developed countries and often equipment and investigations that we take for granted were simply not available. Patients also have to pay for medical care and many cannot afford all of the things that they need. However, seeing how the staff and patients coped in these situations was inspiring and taught me new approaches to medicine that I will remember in the future.
Accommodation, food and basic living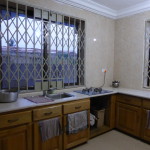 In addition to the medical placement, Global Medical Projects also organised accommodation and some meals and transport.
On the first day in Cape Coast, Eric showed me around the main areas in town, got me a local sim card for my phone and helped me to get local currency. This was really helpful, as these things can be stressful to organise by yourself, but are much easier done by a local who knows where to go! It was very easy to get to town from the accommodation and to get around to places. Everyone travels by taxi for short distances, which are exceptionally cheap and pretty convenient!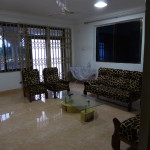 The accommodation was amazing! All the volunteers in Cape Coast from Global Medical Projects stayed in a volunteer house together, with Eric and Mary (the Ghanaian 'host' parents!) on the upper floor of the building. There were simple dormitories for boys and girls, with en-suite bathrooms (with Western toilets and running showers!) as well as shared areas – a living room with sofas and a TV, a dining room and a kitchen. Wifi was set up whilst I was there which was a great bonus, and fans and mosquito nets were provided. Although it may not meet with all Western standards (for example, there is no hot running water and power cuts are frequent!) the house was clean and comfortable, and a great place to hang out with volunteers in the evening.
Three meals were provided per day Mon-Sat, prepared by Favour, our local housemaid. Favour was brilliant – incredibly friendly and approachable and was happy to adapt meals if needed. She also taught me many local traditions and showed my where to buy certain things and get my hair braided. I had great fun spending time with her and learning more about the Ghanaian cultures. The kitchen was also available to use at any time by volunteers, so we could prepare our own food. The nearby markets sold plenty of food and there were some Western brands available to buy from shops in town, although these are expensive!
Support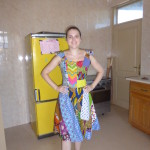 Since I was travelling alone, having support whilst I was out in Ghana was important to me. I found that it was very easy to meet other volunteers whilst I was there, both within the house that I was staying in and also working at the hospital (with other organisations). We often went for meals or travelled together in the evenings and weekends. I never felt lonely and really enjoyed meeting new people, both from Ghana and other volunteers from around the world.
Having a local Ghanaian contact (Eric) who you could contact at any time was also exceptionally useful and gave great peace of mind. Eric and his wife Mary were very approachable and were always willing to give help and advice. They kept an eye on all the volunteers and made sure that we were safe and well, telling us to call if we had any problems, even when we were travelling out of Cape Coast! Certainly I enjoyed being very independent but it was good to know that they were there for support if needed. They even took all the volunteers out for a meal, invited us to go to church with them and helped to book taxis at good rates for us when we travelled to local areas at the weekends.
Travel and things to do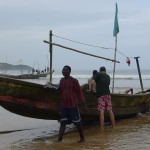 Cape Coast itself is a great place to be located and has loads on offer beyond the medical placement that I went for. In the local town there are historic sites to visit, such as the Castle which was used during the Slave Trade and busy Ghanaian markets. There are local music nights at restaurants (look at those next to petrol stations!) and bars such as Oasis, which seemed like a gathering ground for foreign tourists and volunteers! The beaches in the area are beautiful and in nearby sites you can go swimming, learn to surf or take trips on traditional fishing boats.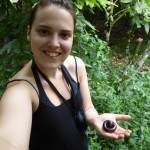 Myself and other volunteers had plenty of free time in evenings and weekends and often went travelling together. We went on jungle treks, canoed down rivers and visited the stilted village in the far West, Nzulezo. During my extra 2 weeks I also planned a big trip on my own travelling North through Ghana, including Mole National Park and Larabanga Mosque. If you'd like to travel then I recommend taking a travel guide with you but not planning too much in advance – it is easy (perhaps easier!) to plan things spontaneously in Ghana and fun to organise things as you go, along with others who you meet out there.
Great report Charlotte! Thank you for coming with us. To follow in Charlotte's footsteps on the medical elective programme in Ghana click on the link below: