My Medical Work Experience Project in Tanzania
Published on Wednesday 19 October 2016
My Medical Work Experience Project in Tanzania
Dan Hazelton
My name is Dan Hazelton, a second year Biomedical Science student, and I spent three weeks on a combined medical and volunteering project in Meru Hospital and Cradle of Love orphanage in Tanzania. Both were located in Meru, a small area in the shadow of Mt. Meru, to the west of its 'older brother', Mt. Kilimanjaro. My girlfriend and I stayed with a family in the small village of Usa River, which slowly became our home over the coming weeks.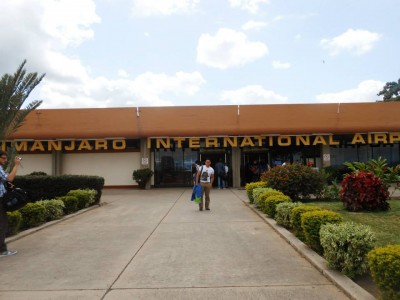 On the first day, after 16 hours of grueling travelling through three countries, I arrived at Kilimanjaro airport, in dire need of the weekend to recover. However, a fellow volunteer had other ideas, and I ended up at Arusha National Park the following day, a thoroughly enjoyable trip, even if I was asleep for half of it! After being collected from the airport by Charles, a local taxi driver who we would see many more times around Usa River throughout our trip, we made our way to the Mgonja household in Usa River. We were met there by two of the loveliest people I have had the fortune to meet- Zablon and Pretty. Pretty was pregnant while I was visiting, and I hope to go back soon to meet the latest member of the family! Throughout the first weekend, I noticed the stark contrasts between daily life in a country such as this and what I was used to back in the UK. However, the close knit community feeling was apparent from the beginning; from the way everyone greeted each other as they passed, to how well Zablon and Pretty knew their neighbours from all over Usa River!
My combined project saw me visit the hospital in the morning each day, after which I would make my way to the orphanage for the afternoon- a long but fulfilling day! At the beginning of my first week, Joshua Kuboja, the local coordinator, introduced us to the Dala dala. I had heard about transport such as this prior to leaving, but to experience it is another thing entirely. Although a full dala dala could be quite cramped, I loved how regular they were, so much so that I rarely saw the Usa River dala dala stop without one! Using one to reach the hospital, I began my first day by meeting the matron, who was very friendly, and quite evidently wanted to improve the hospital by asking for our feedback at the end of the trip. She proceeded to give the other volunteers and I a tour of the various wards, including paediatrics, female, male, minor and major surgery, outpatients, and family planning. I immediately noticed that the wards were allocated based on necessity; the most common diseases had their own wards, such as Diabetic clinic or the TB ward. I realised that this was a consequence of the general lack of resources in the country; the hospital treated the majority first, then allocating resources to other areas when they become available, the most sensible approach.
I visited every ward, but spent most of my time in Minor Surgery, as I loved the hands on aspect there. The doctor on duty, or a medical student on her elective, would always be happy to teach me basic procedures, such as wound dressing removal/changing, plaster cast application/removal, and stitch removal, and help me complete them myself. In addition, being 'in the thick of it' allowed me to apply knowledge that I had already learnt, and to build upon it. For instance, I changed the dressings of a patient nicknamed 'Babu' (Swahili for grandfather), then watched as a final year medical student advised the doctor to change his antibiotics, as it was evident from the state of his wound that his infection was resistant.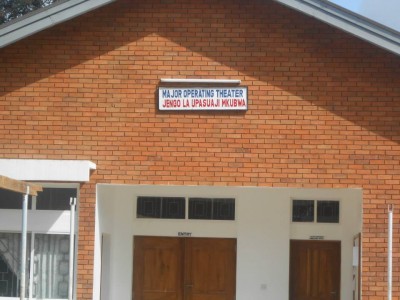 Viewing major surgery was another major highlight for me; seeing my first caesarian section was exhilarating, the baby's first cries were wonderful to hear, as a new life was brought into the world. Again, differences between here and the UK were on show, with some aspects such as equipment and drugs used completely different to those used in the UK. For instance, I was initially surprised to see ketamine used as a local anesthetic, but was quickly informed that the one in use here was the non-recreational type. I also saw a vaginal cyst removal during my time in Major ops, and was impressed with the speed and precision with which the doctors completed the procedure.
After spending the majority of the first week in Major ops, the following weekend was a bank holiday (lucky!), so we decided to go to Arusha for the weekend. Taking the dala dala further than I had previously, as the hospital was at the halfway point in a village called Tengeru, was a bit daunting but not a problem at all in the end. Once in Arusha, I realised just how large a city it was- a sprawling, chaotic, but ultimately amazing, concentration of people from all over the world, with buildings that all looked different. You could literally have bought anything in Arusha; shops selling motorcycle parts sat next to diners, which were situated opposite souvenir stores. Over the weekend, we visited the Maasai market for some haggling and buying of souvenirs, and Meserani Snake Park just outside the town for some reptile viewing and interaction. A very enjoyable weekend indeed.
The following week, I began work in the Male ward, and moved between the other wards as the week progressed. Viewing and assisting in wards rounds allowed me to monitor progress of patients over time, and see the journey that a patient took through it- from outpatients, through the wards, and into minor or major surgery if necessary. Outpatients was particularly interesting; the sheer breadth of diseases on show was astonishing, with many eradicated or far less common in the UK, such as HIV, TB, and Hepatitis B. Doctors used preliminary tests for the these diseases, and allowed me to test patients myself in due time. Often, diseases such as diabetes that are prevalent in the UK had progressed further than I had ever seen- a man came in with an amputated foot due to gangrene. I found out that progression of diseases such as these were often due to poor compliance and nutrition, a situation common in the country. My time in outpatients was topped by fulfillment of a small childhood wish- to learn how to use a stethoscope. I always remember having one when I was young, and am grateful that I finally got the chance to use a real one!
Overall, my work experience in the hospital was a truly amazing experience, both teaching me a great deal about all aspects of medicine and healthcare, whilst allowing me to grow as a person in confidence, making some great friends and, ultimately, helping people. However, as you would expect, there were several areas of possible improvement within the hospital, some with fairly simple solutions, others with more deep rooted causes. Therefore, in my feedback, I tried to target only the problems that could be easily solved, to try to make an impact during my short time at the hospital. Also, some doctors were less approachable and less willing to share their knowledge that, although it was initially more difficult to learn at times, it taught me to use my initiative more- a surprising silver lining in the situation.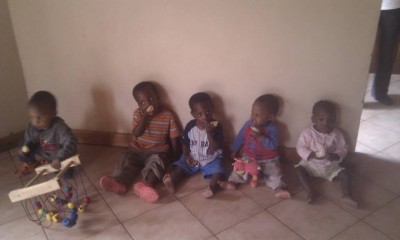 In addition to the hospital, I visited a local orphanage in the afternoons, which offered a different experience entirely. Cradle of Love, an orphanage halfway between the hospital and Usa River, was fairly well funded, with good facilities and plenty of staff and volunteers, which surprised me initially, as I was expecting a far more degraded infrastructure. After visiting a far less privileged orphanage later on the trip, I realised that the children at Cradle were lucky to be here, but no less deprived of the most innate human craving- attention and care. Over the next three weeks, I cared for children from babies to around age 3, playing with them and assisting feeding. I had worked with children before in the UK, but not this young, and was surprised in many ways. The children were split into four groups depending on walking ability (and age): babies, crawlers, wobblers, and toddlers. I spent most time with the wobblers and toddlers, as I enjoyed the more hands on and busier style with the older kids. Full of energy and very clingy as children of that age are, I proceeded to build such strong relationships with some kids that I didn't want to leave at the end of each day! I can honestly say that there are not many better feelings than giving attention to children that are so obviously deprived of care, and not many worse feelings than leaving at the end! Unfortunately, some of the kids weren't used to men at all, and proceeded to cry whenever I went near them, which was the opposite of what I intended! Ultimately, although I know the kids won't remember me, I will always treasure the time I had with them, as they brought out my inner child, and made me realise how lucky I am to have parents.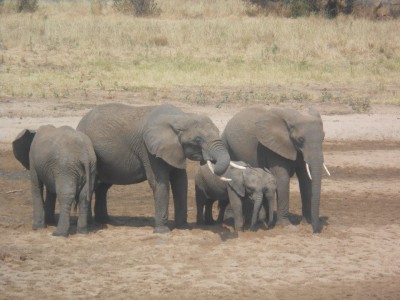 On another note, before I began to research Tanzania as a country, I didn't realise how rich it is- not in monetary terms, but in culture, in natural wonders, and in surprises. Unfortunately, I could not visit the Serengeti, or climb Kilimanjaro, or stay on Zanzibar, but I plan to do all these things when I go back, as I have heard amazing things about them. In fact, I wouldn't have been able to do all those things in the time that I had even if I tried! Instead, I went on safari to Tarangire and Ngorogoro National Parks, and can honestly say it was unbelievable. The pictures don't do it justice; you must visit yourself!
In the evenings, the volunteers and I would have Swahili lessons, taught by Joshua, which offered a glimpse of the culture of Tanzania. I enjoyed learning the language, as it was surprisingly easy to learn once you knew the basics. It also helped no end in the hospital, as I was soon able to pick up bits and pieces from the conversations between doctors and patients, making the experience easier and more satisfying.
One day, I wish to go back to Tanzania and stay with Zablon and Pretty (and hopefully their son/daughter!), but I'm so glad that I chose to organize my first visit through Global Medical Projects, as it offered safety and security that I would have struggled to find myself. Therefore, I'd like to thank Kevin Dynan and Joshua Kuboja for their help, as I could not have had this wonderful experience without them. Also, I'd like to thank Zablon and Pretty, who were the perfect family to live with; friendly, kind, and welcoming, I can't thank them enough for putting up with me for three weeks! Also, the friends I made out there will stay with me forever- the staff at my places of work, and the volunteers that I spent my time with, they all contributed to my amazing experience.
In conclusion, I'd definitely recommend the combined project that I chose, as it provided two different aspects of Tanzanian society, offering a more comprehensive view than I would imagine a single project does. It was a wonderful life experience, and one that will stay with me for life, but is also very useful to those prospective medical students, as it taught me a great deal about the profession, its successes and difficulties, and helped me grow as a person.
Many people combine time at the hospital with time at the orphanage and this combination often works well. Combined placements are only £100 – $160 – €120 extra to cover the additional donation to the orphanage.
To follow in Dan's footsteps and join the medical project in Tanzania here
You can read more about our orphanage placements in Tanzania here